Toyota Tacoma vs Honda Ridgeline

The search is on in Lowell, Dracut, and Tewksbury for the ideal work companion that can also tackle whatever adventures drivers get up to on the weekend. With bold powertrains and impressive towing capabilities, the Toyota Tacoma and Honda Ridgeline are desirable options. However, only one can earn the title of your next truck, so the team at Ira Toyota of Tewksbury put together this comparison.
Read on to see which pickup will come out on top when the Tacoma and Ridgeline go head to head. Contact a member of our team if you have any questions or would like to take a test drive.
Choose the Towing Power You Need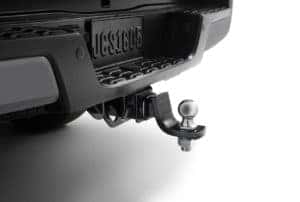 When it comes to selecting your next truck, one of the most important factors to consider is towing capabilities. Your pickup needs to be able to haul your machinery around your campsite or take your travel trailer on an unforgettable weekend getaway.
The Toyota Tacoma comes with two engine options so you can select the one with the towing capacity needed to tackle all your lifestyle demands. Its baseline 2.7L 4-cylinder engine can tow up 3,500 pounds–the same as the motor in the Honda Ridgeline.
However, if you're looking for a little extra pulling power, you'll want to upgrade to the available powertrain in the Tacoma. When properly equipped, it can tow 6,800 pounds with ease, allowing you to take your lightweight camper on your next road trip. You may have to leave it behind with the Ridgeline, though, since it only has one engine option that can only tow a maximum of 5,000 pounds when properly equipped.
Room for All Your Gear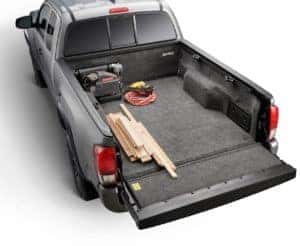 Sometimes, you don't want to have to carry a trailer behind you and make use of the cargo capacity of your truck instead. Once again, the Tacoma allows you to choose between two options so you can select the cargo bed you need to fit your tools. With the Ridgeline, you're stuck with only one bed length of 64 inches, while the Tacoma has a maximum bed length of 73.7 inches on its standard bed.
Additionally, you may have a harder time carrying your heavier machinery and equipment around your worksite with the Honda Ridgeline since it has a maximum payload capacity of 1,465 pounds. Yet again, the Toyota Tacoma rises to the occasion with the ability to haul around up to 1,685 pounds in its cargo bed.
The Thrills of Venturing Off the Paved Path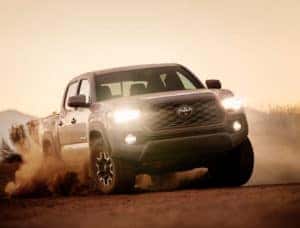 Clearly, the Toyota Tacoma and Honda Ridgeline are equipped to tackle a variety of worksite conditions, but what about your weekend adventures? While these trucks share many similarities, they have extreme differences when it comes to off-road capabilities, making the Tacoma a potentially better option for you.
Superior performance starts with a rugged construction, so the Tacoma takes a commanding stance 9.4 inches off the ground, helping you sail over obstacles with ease. You may have a harder time navigating rocky trails behind the wheel of the Ridgeline, though, since it only has a maximum ground clearance of 7.87 inches.
To make sure you stay safe throughout your trek, the Tacoma offers available Crawl Control. This advanced system controls the throttle and brakes at a low speed so you can crawl over bumps in the road with grace and ease. You'll have to control these functions manually in the Ridgeline since Crawl Control isn't available.
Toyota Tacoma vs Honda Ridgeline: Which Truck Is Right for You?
Now that you've see how the Toyota Tacoma and Honda Ridgeline compare against each other, the next step is to get behind the wheel. While the trucks have similar baseline towing capacities, clearly the Tacoma has much to offer for drivers in Lowell, Dracut, and Tewksbury in terms of maximum towing power, cargo capacity, and off-road capabilities.
Contact the sales team at Ira Toyota of Tewksbury and we'll happily set up a test drive of the Tacoma for you. See you soon!