Community Spotlight: Tewksbury Sports Club

Whether you're looking for one-on-one training, group programs, or a place to get you fitness fix, or meet American's Favorite Gym Mascot in person, Tewksbury Sports Club is the place for you. Here, you'll have access to over 50 group exercises a week and a team of great personal trainers.
Ready to learn more about how Tewksbury Sports Club can help you get fit? Keep reading!
Getting Fit with Tewksbury Sports Club
At Tewksbury Sports Club you'll find that getting in shape is fun and easy thanks to their team of professionals. Their large facility is great for functional, cardio, or strength training. Plus, Tewksbury Sport Club has dozens of group fitness classes each week.
This variety of fitness options makes it possible for everyone, no matter your fitness level, to achieve your fitness goals. Not sure which program is best for you? You can try Tewksbury Sports Club out for 30 days for free. Stop by their Facebook page to learn more.
Personal Training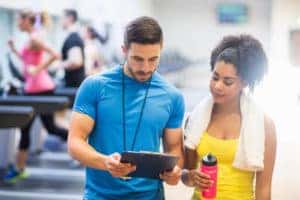 When you choose the personal training fitness option you'll be paired with one of their degreed exercise physiologist and nutritionists who will create a customized fitness plan. Whether you're looking for injury prevention, athletic training, or to change your body composition, their team is well qualified to help you achieve your goals.
When meeting one-on-one with one of their trainers you'll receive counseling in nutrition, mobility, and more to help you reach your goals.
Large Group
Do you want the care and attention you'll get with one-on-one training sessions with others around? If so, check out their large group personal training option. This is the middle ground between their personal training and group exercise classes.
During these large group exercises you'll work on yoga, cardio, strength, and body weight workouts to help you get the body you're after.
Group
These large classes are offered more than 50 times per week with various styles. That way you're sure to find the perfect class for you at a time that's most convenient. Let's take a look at a few of the group classes offered at Tewksbury Sports Club.
Barre Strength
This type of low-impact workout incorporates a blend of pilates, yoga, and ballet into one killer workout. You'll mostly be using bodyweight to help lengthen and slim your muscles, although there are times where you'll move to the floor and use weights, disks, or resistance bands for even more or a total body workout.
Spin
You'll be using an indoor cycling bike to help tone your muscles and burn tons of calories. You'll have your option of a 30-, 45-, or 60-minute class. No matter which you choose, you'll go through a cycling routine get to upbeat music.
Yoga/Pilates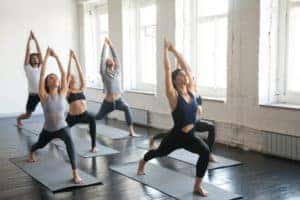 Both types of workout help shape your body while improving your balance and flexibility. You'll even find you're stronger than before.
Les Mills SPRINT
While this is only a 30-minute workout you can expect to be sweating and burning lots of calories. You'll find yourself being pushed to your physical and mental limit during this HIIT (High Intensity Interval Training) workout. This tough workout is well worth the results.
Visit Tewksbury Sports Club Today
If you're ready to take the first step to a healthier you and overall healthier lifestyle, Tewksbury Sports Club is the place to visit. Stop by today to learn more!