---
If you do a lot of driving around Lowell, Dracut, and Tewksbury, chances are you make phone calls or listen to music at some point. Most modern automobiles make it easy to use your mobile device while driving, so that you can stay safe on the road.
Toyota provides tons of ways to keep you connected to your device, such as offering features like Bluetooth®, Entune™ infotainment systems, and Apple CarPlay®/Android Auto™.
In this guide, we'll cover exactly how to connect your phone to your Toyota. Read through the information below and contact the team at Ira Toyota of Tewksbury if you have any questions.
---
Steps for Bluetooth® Pairing

One of the easiest ways to connect your phone to your vehicle is to set up Bluetooth®. In fact, you'll want to do this before setting up Entune™ or Apple CarPlay®/Android Auto™.
If you have a Bluetooth®-compatible phone, you can pair it to your Toyota by following these step by step instructions:
Press "Menu" on the faceplate of the infotainment system, then select "Setup."
Make sure that Bluetooth® is turned on for your phone.
On the car's display screen, select "Bluetooth" and then "Add New Device."
Scroll to find your device's name, then wait to receive a pin number on your phone.
Double-check that the pin number matches the one shown on the car's display screen. If it does, press "Pair."
A connection will start to form, at which time, you'll be asked to enable notifications. You can choose to do so or hit "Skip."
After that's done, you'll receive a confirmation on the multimedia screen—the phone has now been paired and connected!
---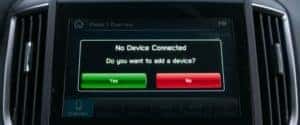 How to Connect with Entune™ Audio
If your Toyota model comes with an Entune™ Audio infotainment system, you'll first want to complete the steps above to connect the phone to the car.
Once that's done, you'll need to create an account through Entune™. Go to the Toyota Owners website, click "Join Now," and fill out the fields. Click "Create Account" to register and complete the rest of the steps to add your car to your account.
---
Apple CarPlay®
This smartphone integration feature, like Entune™, allows you to use your favorite mobile apps through the vehicle's display screen.
If you have an iPhone, you can connect to Apple CarPlay® through a USB port or wirelessly. Make sure to start your vehicle and that your phone has Siri turned on.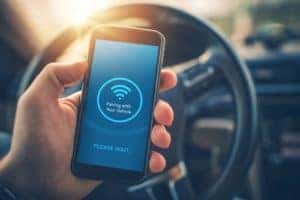 If using a USB cable, plug it into the port in the Toyota. If going the wireless route, hold down the command button on the steering wheel. Double-check that the stereo is in wireless or Bluetooth® mode. Then, on your iPhone, go to Settings > General > CarPlay, find your vehicle, and select it. Once CarPlay® is enabled, you can complete the steps necessary to facilitate Siri through your automobile.
Android Auto™
Android Auto™ works the same way as Apple CarPlay® but is set up a little differently.
You'll first want to make sure your phone is up to date and that you have the Android Auto™ app downloaded from Google Play. Allow permission for this feature to access your phone's features and apps and turn on notifications. If the phone is paired with Bluetooth®, you can select the option of allowing auto launch for Android Auto™.
You can also use a USB cable to connect this feature to your Toyota. Plug your phone into the car's USB port after downloading the app and turn on Android Auto™ in the vehicle's settings.
---
Start Connecting Your Phone Today
If you want to learn more about these phone connections—or you need help getting started—contact the team at Ira Toyota of Tewksbury. We'll walk you through the steps and have you all set up in no time.
Don't wait. Contact our Toyota dealership near Lowell, Dracut, and Tewksbury for assistance today!
---