How to Buy a Car Online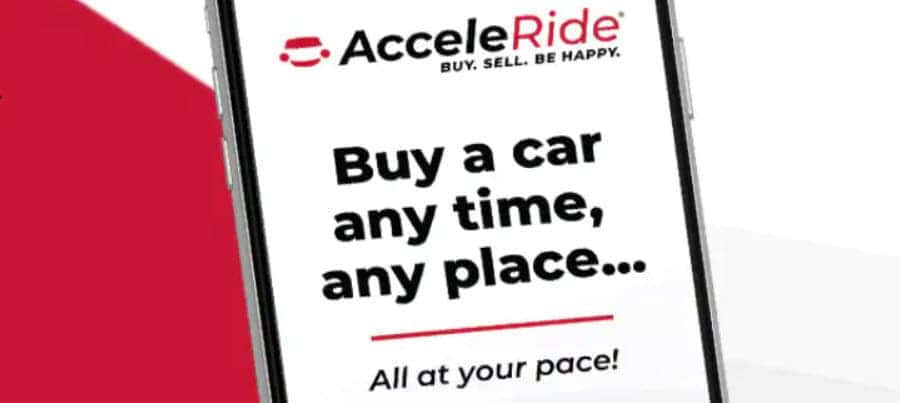 At Ira Toyota of Tewksbury, we want to show you how to buy a car online. We make it easier than ever through our AcceleRide® Store that lets you complete the process from start to finish from your own home. Lowell, Dracut, and Tewksbury, Massachusetts, drivers can have their next new car delivered right to their door!
Discover a new way to buy a car and let our sales team walk you through the process virtually. You can shop from wherever you are as long as you have a phone, tablet, or laptop on hand.
How to Buy a Car Online: 6 Steps
When you're ready to buy your new car online, AcceleRide® lets you do it in six simple steps. We'll show you how to walk through our online car-buying experience:
Step 1: Choose Your Vehicle à Shop hundreds of new and pre-owned models online.
Step 2: Get Instant Up-Front Pricing à We'll get you the best possible lease and finance terms.
Step 3: Estimate Trade-In Value à We'll have a firm offer to you within three hours.
Step 4: Get Credit Approved à We just need a copy of your driver's license and insurance card, too.
Step 5: Final Review à We'll send you a final deal sheet with numbers based on your credit.
Step 6: Take Delivery à Pick up your new car from our dealership or have it delivered to you!
We provide 100 percent transparent, up-front pricing for all our customers, no matter which car you may be considering. You'll have a personal concierge on hand, too, if you have any questions!
Buy a Toyota Online Today

Wondering which vehicles you can buy online? Any model you see listed in our new or used inventories can by purchased from our website. As you shop our new and used Toyota cars, you may already know exactly which model you want to make yours.
Then again, you may need to do some research first. Feel free to use this handy guide to get started:
As a Daily Driver: Toyota Camry, Toyota Corolla
For Family Adventures: Toyota Highlander, Toyota Sienna
Impressive Capability: Toyota Tundra, Toyota Tacoma
Learn more about your favorite models with our library of Toyota car reviews. You can study the specs and features in depth before you choose your next new ride!
New Lease Deals & Specials

When you start the finance process online, you can take advantage of the same offers you'll find when you buy in person. Through the AcceleRide® Store, our finance team can match you with new lease deals or new/used financing specials that meet your needs.
It's one more reason to choose our online car-buying experience. You won't miss a thing compared to a more traditional, in-store buying process. We'll help you score the best possible lease or finance deal for your situation.
Buy a Car Online at Ira Toyota of Tewksbury
Now that you know how to buy your car online, you're ready to get started. Begin by browsing our array of new and used cars online. We'll be here to help Lowell, Dracut, and Tewksbury, MA, shoppers buy the next car of their dreams from the comfort of their own homes! Contact us today!