---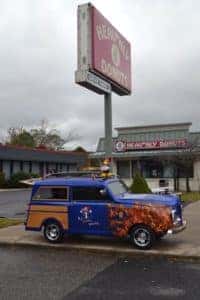 Imagine a world where you weren't able to sink your teeth into a warm, flaky, and perfectly topped donut. We know, that's a terrible scenario, but thanks to Heav'nly Donuts you don't need to experience a world without donuts.
With 35 different flavors of donuts to choose from, on top of all the beverages, sandwiches, and other food items needed, it's no wonder Heav'nly Donuts is a favorite to those in the Lowell, Dracut, and Tewksbury, MA, area. If you've already given them a try, this is your friendly donut reminder; if you haven't, now's your chance to see what all the hype is about. Either way, keep reading to learn more about the spiritual experience provided by Heav'nly Donuts.
More than 40 Years in the Making
Heav'nly Donuts first opened their doors in 1975. Over the past 40 plus years, they've grown as a staple in the community. Now featuring several generations, it's grown into a family business. Founded by Elaine and George Saragas, shops can be found with members of the Saragas family, like their son and siblings.
Dedicated to providing the freshest hand-cut donuts and brewed coffee to every customer who enters their shop. That's why their donuts are made by hand every day without processed ingredients—as are their sandwiches. As for their coffee, each pot is brewed without flavor shots to enhance the flavor.
These are just some of the ways Heav'nly Donuts strides to provide only first-class service.
Donuts and Other Selections
Let Heav'nly Donuts be your one-stop shop for all things delicious breakfast foods. Here, not only will you find a selection of more than 35 donut varieties, but a wide selection of sandwiches, coffee, and more. Some of our favorite selections include red velvet, Boston crème, and Bavarian cream filled.
If you prefer something a little different, Heav'nly Donuts also has a variety of bagels, muffins, and sandwiches. You can get your bagel toasted and topped with butter or cream cheese right there, or you can get one of their low-fat muffins for a lighter breakfast option.
You can top a bagel with sausage, bacon, cheese, or whatever you want in your sandwich. Served hot and ready, you'll be starting your day—or afternoon—off right. Don't forget your coffee or tea, too! Grab your hot or iced drink, or grab beans to brew at home.
Plus, thanks to their convenient drive-thru, you can get your Heav'nly Donut fixings while on the go!